New model for post earthquake planning for local communities in Christchurch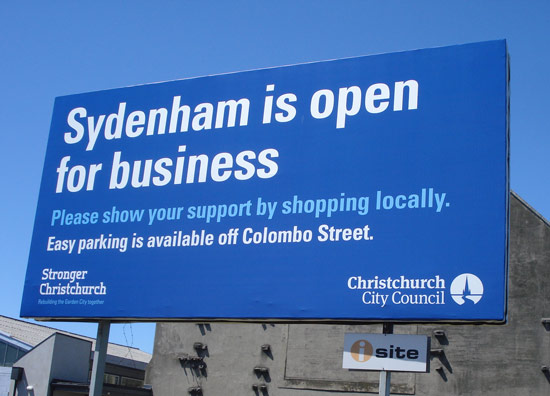 In the February earthquake, 64 commercial centres in Christchurch City suffered damage and disruption. While the Central City is being addressed through its own planning process, a different model is required for suburban centres. Timeframes are shorter, community expectations are heightened, and issues are more urgent.
Two of hardest-hit centres – Sydenham and Lyttelton – serve as demonstrations for the recovery and regeneration of other local centres. This process is being led by Kobus Mentz and his team. Over a short period they consulted with over 500 stakeholders – a rate unprecedented for many New Zealand communities – and prepared draft Plans with supporting implementation actions.
Unlike a normal centre plan approach, these Plans:
Pinpoint early measures that provide immediate support to vulnerable businesses and people.
Use empty ground for temporary landscapes.
Find homes for displaced community activities.
Embrace unique post-disaster regeneration opportunities.
Look to strengthen the community's disaster response in possible future emergencies.
Recently the Urbanismplus team presented back to over 800 people who gave majority approval to the proposed actions. Formal consultation on the draft Master Plans is now underway.
See article: 'Need-To-Have trumps Nice-To-Have' as published in Planning Quarterly 2011.