Creative industries initiative generates employment in Dunedin's historic 'Warehouse Precinct'.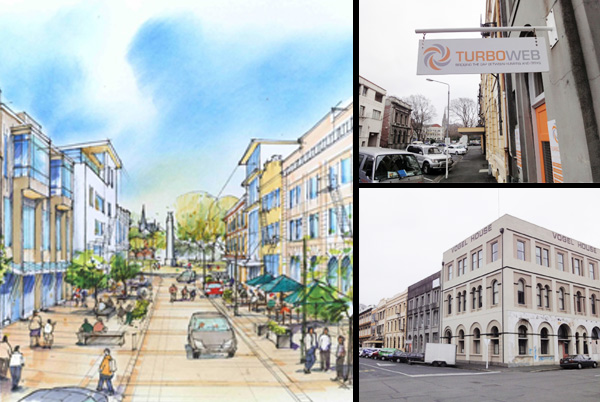 Flowing from Urbanismplus' 2011 Dunedin Central City Strategy which was managed by Kobus Mentz and Wayne Bredemeijer, this project is already producing tangible results and has prompted Mayor David Cull to note:
"This project successfully offers an inspirational vision and incisive strategic plan that illustrates urban design's relevance in these challenging times".
The project's high quality public engagement, integration between disciplines and urban economics emboldened Council to fully endorsed it and vote $500,000 of early funding for physical improvements, in addition to $70,000 of incentive funding for a re-use grants scheme.
A total of 11 projects were supported through the re-use grants scheme for a range of works including earthquake strengthening and façade improvements. This included the protection of a building that was at risk of demolition.
A public realm upgrade programme, currently being tendered, is already encouraging private sector investment and new jobs. Early results include:
Five new businesses, some of which are entirely new tenants to Dunedin.
Commencement of a hotel development and car parking building which has been on hold for more than 15 years.
Two new apartment complexes (with more than 15 apartments) which will attract new residents to the area.
A building that was vacant for ten years now tenanted.
A pop-up theatre located in a rescued building.
Tenancy negotiations underway on two other buildings for new cafes and retail premises.